Non Emergency Consultation
Everyone with a pet knows that it's hard not to worry about them, and it's not always practical to take an animal to the vet every time there's a concern. With The VVG, you can help your client to resolve non-emergency issues from the comfort of their home. Whether you are providing expert advice, arranging an appointment or simply putting a valued customer's mind at rest, our service makes it easy to carry out non-emergency consultations without taking up valuable consulting room time.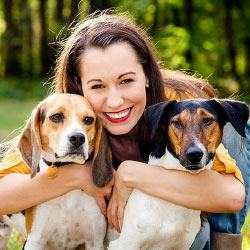 "Its great knowing that i can have my own vet see the boys without needing to take them and all the kids down to the practice"
Frequently Asked Questions

Here are some questions we get asked, alot.
No, all consults using the platform must be instigated by your staff either via the terminal or the web portal.
Yes, they can indicate if they would like to make a standard in practice appointment or if they would prefer a virtual appointment right from the app.
You can set your own prices and options during your set up phase, you can even set virtual appointments to free if you wish.
You can schedule in and have as many as you like, however if you would like to run more than one concurrent virtual consult you would need to contact us about a multi terminal plan.
If a call is not answered then a notification would be left for the client and you could arrange a call back / new appointment.
If you have any other questions, please contact us