Healthy Nutrition
The VVG enables vets and veterinary nurses to provide clients with detailed advice on their pets' nutritional needs whilst face to face with your client and the pet in question. People are often concerned about what to feed their animal and need the reassurance of an expert's advice. Our service means they can get all the answers they want without leaving their home and without the need for a consulting room.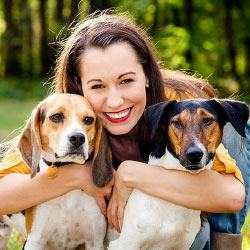 "Sometimes i have a quick question i would like to ask, i could simply google it however i'd much rather speak to my own trusted vet."
Frequently Asked Questions

Here are a few questions we get asked, alot.
Yes, your clients can request a physical appointment through the app for your team to book in, they can also request a virtual appointment through the app that you have the ability to charge for using the app.
No, the app is not designed to be a store front however theres no reason why a client couldn't, after taking your advice pop in to collect some food if you stock it.
You can set your own prices and options during your set up phase, you can even set virtual appointments to free if you wish.
You can schedule in and have as many as you like, however if you would like to run more than one concurrent virtual consult you would need to contact us about a multi terminal plan.
If a call is not answered then a notification would be left for the client and you could arrange a call back / new appointment.
If you have any other questions, please contact us